Lattlay Fottfoy : A Very British Gangster
Par Guillaume le jeudi 1 mai 2008, 21:57 - Cinéma - Lien permanent

Domenyk Noonan
1999 APR 7 - Letter from Woodhill
Prisoner News (May 1999)
'I can't seem to put my ideas down on paper at the moment. I've got no work top. Can't get comfortable enough to draw. Even my letterwriting is effected. These cardboard chairs and tables are a health hazard. You wouldn't know what I mean unless you've sat in one for weeks, months, years at a time and gradually felt your shoulders and upper back rounding. Then after a very uncomfortable day you have to endure an uncomfortable night on a mattress with no give, or in this place on a concrete slab! I have always said that prisons are about breaking the individual. If it's not the system with its pettymundane rules, then iits the furniture.
Everything is regarded as a "privilege" here, for if you're "abusive" or "threatening" towards members of "staff", you simply don't get it, which makes us even more "abusive" and "threatening". Their aim is to condition me and instil in me a "new set of values", their values. And I am expected to accept and value those values, which means participating in the regime here, conforming to every rule and obeying every command. Well, I don't value anything that much that I'd be willing to crawl through shit to get it.
'We are told that things might be improving here, well at least onlevels 1, 2 and 3. There's talk of 'more privileges' and 'more property' being allowed to try and tempt prisoners, but unfortunately for them their privileges are meaningless. For example, if we have "earned" it through "good behaviour" they will "allow" us to exercise with another prisoner. They will "allow" us to have more reading and writing material. And they are attempting to make differentiations between A wing - level 1 and D wing - the unit seg, where beforethere were none. There's talk that we, on D wing, might be allowed three showers a week - THREE! - but only if we've "earned" them. They might even let us out of our cells to collect our meals instead ofbeing fed through the door. If we've earned it. And it's all designed to encourage the prisoners on D wing to progress and see the error of their ways. I would laugh if it wasn't so pathetic and annoying.'
2005 APR 22 - Farewell to gangster Noonan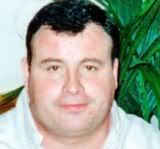 Nicola Dowling, Manchester Evening News
THE brother of stabbed gang leader Dessy Noonan led a 16-piece pipe band through the streets of Manchester at his funeral today as black-plummed horses pulled the carriage carrying the coffin.
Hundreds of people lined the road outside St Aidan's Catholic church in Northern Moor, as the procession for Dessy, 45, arrived.
Desmond Noonan's brother, Domenyk Noonan, walked on foot flanked by four men from D J Noonan Security wearing black jackets with the words, ``We serve to protect,'' written on the back.
Two schools were closed today because of the funeral.
Angry parents only found out about the decision last night - after they had shut.
Staff at Chorlton High and Thomas Aquinas High sent a letter home with nearly 1,800 pupils telling their families the schools would be closed. They said the decision was taken on the advice of the police, although that was denied by GMP.
Both schools are in Nell Lane near Southern Cemetery, where the funeral cortege was going.
2005 DEC 12 - Judge jails 'danger' gangster for gun offences
From the archive, first published Friday 2nd Dec 2005.
A GANGSTER was last night branded "a very dangerous man" by a judge when he was jailed for nine-and-a-half years for having a gun and ammunition in his car.
Domenyk Lattlay-Fottfoy, a member of the Noonans gangland family, was stopped in a Jaguar car by police near Darlington in May and found with a handgun and five .357 Magnum bullets.
A jury at Teesside Crown Court found the 41-year-old guilty of possession of a firearm, possessing a firearm without a certificate and having a firearm and ammunition in his possession.
Lattlay-Fottfoy, who ran a security business, is the brother of murdered Manchester hardman Desmond Noonan, who was stabbed to death earlier this year.
Both brothers had appeared in a controversial television documentary about the Manchester criminal underworld in which Desmond hinted he was responsible for 27 murders.
Armed police have been guarding court room 11, where Lattlay-Fottfoy was on trial, because of the family's gangland reputation.
2005 APR 22 - Noonan killer to be kept in solitary for protection
THE killer of gangster Dessie Noonan is likely to be separated from other inmates to protect him from revenge attacks during his life term in jail.

Drug dealer Derek McDuffus is regarded as being at risk inside prison after murdering a key figure in one of Manchester's most notorious criminal firms.

It is understood McDuffus had declined previous offers to be segregated from other inmates while he was held at Strangeways jail.

But after he was convicted on Monday of Noonan's murder, Prison Service officials will review his case.

Insiders say it is likely the threat to McDuffus's safety will be considered too great and he will be segregated.

The 41-year-old, known as "Yardie Derek", was found guilty of murdering Noonan at the end of a trial at Preston Crown Court.

The judge, Mr Justice Davis, told McDuffus he would serve a life sentence. He recommended a minimum of 15 years inside.

McDuffus stabbed 45-year-old Noonan during a row at his home in Merseybank Avenue, Chorlton, in March before throwing him out on to the street to die.
DEREK McDuffus - known as "Yardie Derek" - was born in Manchester but grew up in Jamaica.

He returned to Britain when he was in his twenties and met girlfriend Shajahan Cooke at a nightclub in Hulme in 1992. They had three children together.

McDuffus, 41, worked as a DJ in Manchester and Ashton but his primary source of income was from drug dealing, a business he operated from his home in Merseybank Avenue, Chorlton. In the mid 1990s he was sentenced to three years and 10 months for possession of heroin with intent to supply.

McDuffus never explained what happened on the night Noonan was killed, showing contempt for the police who interviewed him.

Instead of trying to convince the jury that he had acted in self defence, he told the jury that he had nothing to do with the killing, that he had never dealt in drugs and never met Noonan.

His motive for stabbing the gangster will remain largely a mystery.
DESMOND Noonan was a man who revelled in his fearsome reputation as a gangland enforcer.

Known to family and friends as "Dessie", he was the gregarious head of the Noonan criminal firm.

When asked on camera by reporter Donal MacIntyre how many murders police suspected he was responsible for, Noonan broke into a broad smile before hinting at a total of 27.

In the Channel 5 documentary, broadcast a couple of days after his death, Noonan also joked about the intimidation of witnesses.
2006 JAN 10 - Gangster Noonan to sell his story
From the archive, first published Friday 2nd Dec 2005.
MANCHESTER gangster plans to become an author.

Domenyk Noonan is appealing against a jail sentence for having a gun in his car, claiming he was "set up" by the police.

He has also revealed he is spending his time in prison writing a book about the notorious Noonan family.

"There is a good story to be told," he said.

He is set to join a number of gangland figures who have gone on to have literary careers like "Mad" Frankie Fraser.
On December, Noonan, who has changed his surname to Lattlay-Fottfoy, was jailed for nine-and-a-half years after he was found to have a handgun and five bullets in his car when he was stopped in Darlington.
A Very British Gangster